Truecaller Launches SMS App Truemessenger for Android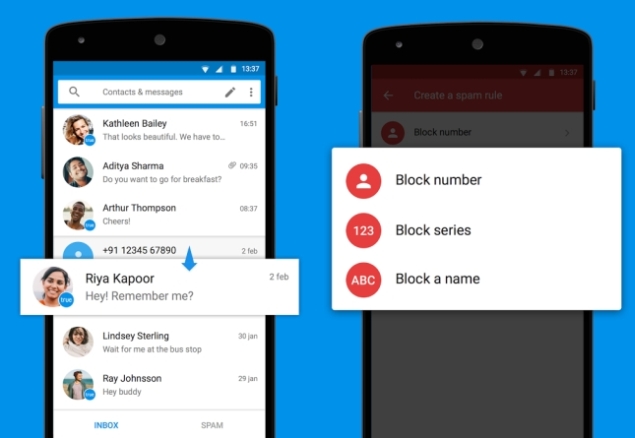 True Software, the company behind the popular Truecaller app, has just launched a new application called Truemessenger. As you might expect from the name, this is a messenger application that hopes to do for SMS what Truecaller did for calls.
The Truemessenger app was launched on the Play Store on Tuesday (available only in India for now) and like company's other apps Truecaller and Truedialler, Truemessenger is also a free application. It verifies your phone number using an SMS, and once that is done, you're in.
Like other SMS apps, Truemessenger shows you a list of all the messages you've received, and starts identifying the senders of messages - the people whose names are stored in your contacts app are displayed normally, while the unsaved numbers are also replaced in just a few moments by the names of senders, complete with pictures where available. The only distinguishing feature is a tiny "True" badge at the bottom corner of the picture.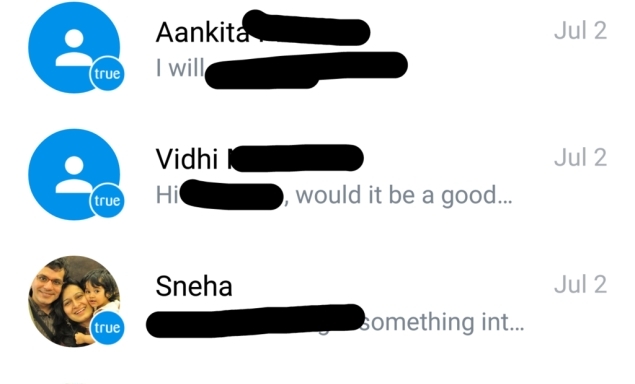 Recognising the names of senders took only seconds, and new messages from unknown numbers are also identified near instantly - which makes sense considering that's how the Truecaller app also works.
In a blog post, True Software co-founder and CEO, Alan Mamedi, writes about how Truemessenger is designed: "Imagine if every time you received an email, the sender was simply an IP address string of numbers. This would not give any context to your conversation. Imagine now that email spam was not filtered, and was automatically sent to your inbox. This becomes frustrating as the volume of emails increases." Truemessenger, the post continues, takes a phone number, uses the power of the 150 million member Truecaller community to identify an actual name behind the number.
Other than this one feature, the Truemessenger app looks like a decent SMS application, but nothing very out of the ordinary. There are two main screens - inbox and spam - that you can switch between thanks to buttons at the bottom of the screen, and you can easily mark senders as spam so you won't see messages from them again in your inbox.
Like other messaging apps on Android, you can also set Truemessenger as the default SMS app, and the app prompts you to do just that on first launch. You can of course use the app without doing that as well.
Speaking of marking as spam, there are multiple options available to you on this front - you can block an individual number, a series of number (e.g. everything starting with 9999) or block a name, so all messages from, say, Myntra get blocked, regardless of which number the company is using.
The design of the app itself is pretty minimal and pleasing with a cheerful blue theme, and you can quickly change your default messaging app through the Truemessenger settings, so if you want to return to your default app or Hangouts, that's easy to do as well.
As a messaging app, Truemessenger ticks all the important checkboxes, and its trademark feature works really well. If you get a lot of spam messages, or are just not very organised when it comes to saving people's numbers to your contacts, then this app would certainly be very useful.